The Southern's 98th Annual Meeting
June 15-18, 2021 (vendor events June 17-18, 2021)
Grand Hotel Golf Resort and Spa
One Grand Blvd.
Point Clear, AL  36564
For Distributors, the Southern Annual Meeting provides:
Top-notch educational events
Unprecedented networking events
More new vendors and products
A location that encourages spouses and children to attend
And more!
For Vendors, the Southern Annual Meeting includes:
Guaranteed appointments with buyers during our Ten-2-Profit event.
Opportunity to continue conversations at the "House of Deals" event.
Pricing designed to encourage families to attend the meeting with you – spouses and children under 18 are FREE.
Streamlined process to participate:

No dealing with a general services contractor
No ordering expensive carpet / electrical / labor
No booth to design / ship / set up / ship home
Our vendor partners are family here at the Southern.
We have created an environment where business gets done and relationships get strengthened.  We will be at the Sawgrass Marriott next year from June 14 – 17, 2022.  Be on the lookout for more information this fall.  If you have any questions in the meantime, please call us at 770-932-3263.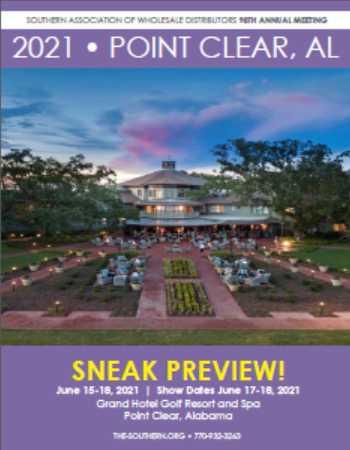 Check out our 2021 Southern Annual Meeting Magazine by clicking here.