Learn the No-Fail Formula for Trade Show Success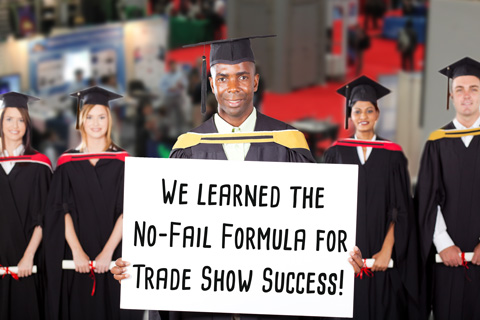 When you exhibit at a Southern event, we want to do all we can to help you have a successful show. That's why we've partnered with Displayit to bring you their Trade Show University. You're welcome to access any or all of it, for free, right here on this page (no sign-up or email required).
You'll find this course to be the simplest way to learn how to be successful at your trade shows. There are 11 videos, and most are just 5-7 minutes short (the first is 15). Like Cliffs Notes, they're distilled, easy to learn, and easy to apply.
Topics include:
Choosing your starting point.
Evaluating ROI potential.
Building your budget.
Crafting show messaging.
Selecting marketing avenues.
Earning attendee attention.
Selling with a plan.
Defining show goals.
Optimizing logistics.
Measuring results.
Plus you have access to forms and checklists to guide you through the process.
Here's what recent graduates have said about Trade Show U:
"When I discovered Trade Show U, I watched the videos, and they helped us refine our process. We had more quality leads during this show than the previous 5 years combined! Yes, seriously."
Roxanne Glaser
Director of Digital Learning, i2i Technologies
"Thank you for the program. I feel that I learned some valuable insights. I have been doing trade shows for years, and I have never put as much thought into planning as I have for my next one."
Glen Powers
Regional Manager, Riverstone Communities
Are you ready?
You can get started with video #1 right now and keep on going, or come back anytime you like (better bookmark this page!).
Video 1:
Don't miss the Trade Show Checklist.
For your convenience, you could have reminder emails from Josh, CEO of Displayit, delivered to your inbox every couple of days (so you can pace yourself). Each will contain links to the videos, which you can still find below.
Here's where to sign up if you'd prefer your videos delivered later:
Video 2:
Here's the PDF that goes with it: Determine the Value
Video 3:
For Video 3 you'll want to download these:
Determining Budget Values
Booth Planning
Setting Your Baseline Budget
Budgeting for Additional Expenses
Video 4:
Still more great stuff to download for Session 4:
Craft Your Message (Your Prospects Goals)
Craft Your Message (Your Company Goals)
Determine Your USP
Video 5:
Video 6:
Video 7:
Video 8:
Video 9:
Video 10:
Video 11:
If you'd like some personalized help from the experts at Displayit, you can schedule a free consultation here.

About Displayit
"Since 1996, we've helped more than 20,000 clients get ready for their trade shows. We're happy to share what we've learned with you for free. (If you want the exhibit stuff we sell, you'll have to pay for that! )"
Josh Axelberd, CEO
Displayit, Inc. is located in Buford, Georgia, USA. 800.207.0311