2017 Southern Annual Meeting
Sheraton New Orleans
New Orleans, Louisiana
June 13-16, 2017 (Show Days: June 15-16, 2017)
Thank you to everyone who made the 2017 Southern Annual Meeting the best show ever! None of this would be possible without the continued support of our Sponsors. We salute these companies for their commitment to the Southern each and every year. Here are some of the highlights from the 2017 meeting:
2017 Ten-2-Profit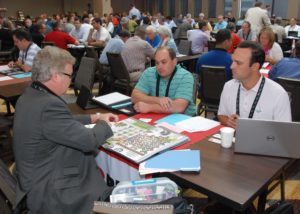 The keystone event of this year's meeting was our new Ten-2-Profit session. It offered vendors the opportunity to pre-schedule individual, 10 minute appointments with the buyers of their choice. Similar to speed-dating, these pre-scheduled meetings allowed vendors to put together products/services deals ahead of time specifically for the buyers that they would meet. With over 600 individual meetings occurring during this event, the room was a buzz with excitement before, during and after.
House of "Deals"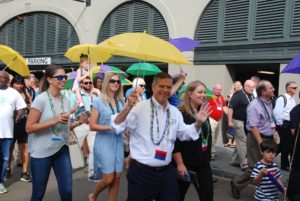 A second line parade to the House of "Deals" was a perfect way to kick off The Southern's  other new exciting event of the 2017 annual meeting, New Orleans style. This time the Vendors were set up throughout the House of Blues in a relaxed, fun atmosphere and showcased their products to the buyers that came by to continue the discussions started during their Ten-2-Profit meetings. This was a great way to end the week for all who participated.
The Southern Online Portal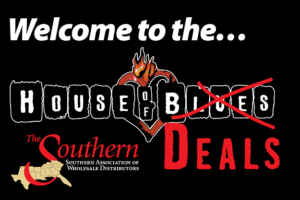 And last but not least, let's not forget the success of the Southern Online Deal Portal, the perfect compliment to our two new events. Open from June 1st through June 30th, the Portal allowed buyers plenty of time to evaluate and take advantage of awesome deals from the comfort of their offices in the weeks before AND after the annual meeting. At last count, well over $1 million in deals were transacted using this process alone. Thank you to Spotlight Innovations for partnering with us and building this incredible tool for our attendees.
Congratulations to our 2017 Award Winners!
Meetings with a Mission
Meetings with a Mission was designed to encourage connections between our attendees and those in the community of our host city. This year, we partnered with CASA Jefferson(www.casajefferson.org). We are proud to announce that we collected over $3,600 in cash (and that was in addition to the $1,000 check from The Southern) and a $1,000 donation by one of our manufacturer members. Thank you to everyone who contributed!
Silent Auction and Raffle to Benefit the SAWD Education Fund
The Southern's Education Fund provides educational opportunities for SAWD members, their employees and family members. We are very excited to announce that we raised close to $20,000 for the fund from the Silent Auction, Raffle and Wine Grab. Thank you to everyone who contributed!
2017 Scholarship Winners
One of the ways that the Southern Education Fund helps is to provide scholarships to deserving students that meet the criteria and have been voted in by the Southern Education Committee as having the best answer to a an essay question.  This year's essay was "How does technology affect your purchase decisions in Convenience Stores?"
Congratulations to our 2017 winners!
$5,000 – Amber Leiker, daughter of Craig Leiker with ITG Brands
$5,000 – Lauren Parker, daughter of Russell Parker with The H.T. Hackney Company
$5,000 – Bryce Milbrandt, daughter of Bruce Milbrandt with Farner-Bocken